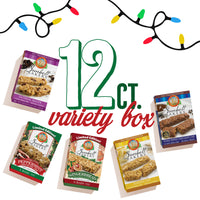 Whether you're stuffing stockings or your pantry, here's a great way to do it. You'll get special savings on 12 cartons of Sunbelt Bakery Granola Bars that are full of holiday flavor…and holiday cheer. 
 The Stocking Stuffer Variety Pack is available only while holiday flavors are in stock and it  includes these Sunbelt Bakery granola bars:
 Gingerbread (3 cartons)   
Peppermint Chocolate Chip (3 cartons) 
Oatmeal Raisin (2 cartons)
Banana Oat (2 cartons)
Fudge Dipped Chocolate Chip  (2 cartons)   
ADD A
SUNBELT BAKERY HAT
TO YOUR ORDER FOR JUST $9!